Permission flexibility!?
We have a new and rather EXITING update!!! (on both Jira and Confluence)
We've been working around the concept of approval path for quite some time, if you are a user of Approval Path, you probably work in an environment where permission hierarchies play a role, hence the need of approvals!
So, what's the update and how can it improve your experience!?!
Permission schemes
That's right!!!
You can now limit or extend the access of users to approval path capabilities, you can create more flexibility around the approval path by allowing more users to interact with the path or you may wish to limit access restrictions further to have a more focused group of users handle the approvals.
Ok, but what can be configured!?
In general, you can limit user access to both (Information and Actions), meaning, you can control what users can View or Edit and of course, you can control who can Create approvals.
Keep in mind, these permissions are effective on Project, Issue level (Jira) and Space, Page level (Confluence).
Let's break that down!
On Jira, you can define permissions for users on:
Project setting
Viewing the Approval Path project settings page.

Creating new approval definitions.

Editing existing definitions.
Issue
Viewing the ongoing approval path.

Starting a predefined approval path.

Allowing the user to reset an ongoing approval path.
On Jira, users are more familiar with how permission schemes work, but how is this possible on confluence?Our team has created permission scheme page just for that! You can implement these permissions as conveniently as on Jira permission scheme page, the page will be available for global admins in the Approval Path Global settings.
Does this mean I have to configure permissions?
Absolutely not! If the current setting works for you, then simply keep it that way. This update is made to improve your experience for your use case, the default permission schemes remain exactly the same!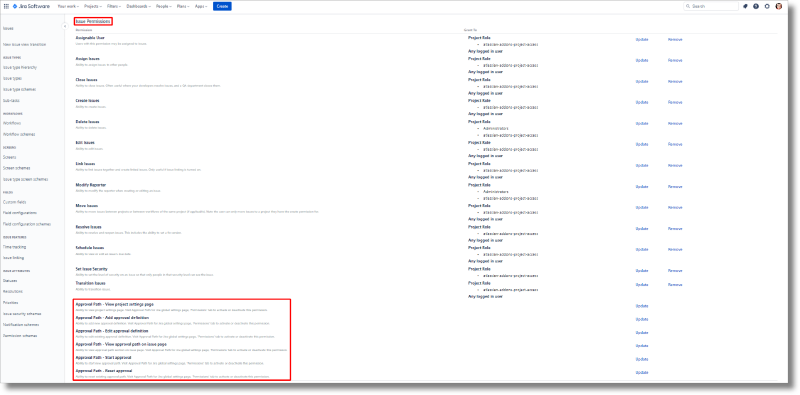 Do you wanna learn more?
Jira user guide - Permission schemes
Confluence user guide - Permission schemes