Digitally Sign Contracts in Confluence with Old Street's Brand New App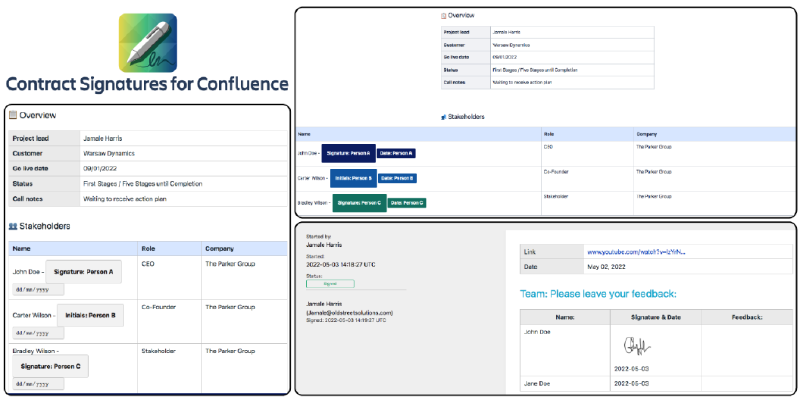 Confluence is already an ideal place to be creating, managing, and storing your contracts. Of course, the most important feature of any contract is the signatures of the parties. It's not an agreement till someone agrees to it.
And yet, there's no way of digitally signing contracts inside Confluence. You'd need to export it and use another digital signature tool like DocuSign, taking the process and the audit trail outside of the platform you're working in.
Well, you used to need to. You don't anymore. Enter drum roll please Contract Signatures for Confluence, an app to let you digitally sign contracts directly inside Confluence.
Centralize your entire contract management system
Now available totry for free on the Atlassian Marketplace, this app is a bit likeExternal Share for Confluence, which lets you share Confluence pages with users who aren't on your instance. But this time, you're sending a Confluence contract to a signee, who is then able to click a button and upload their signature (along with other optional inputs like dates and text).
The use cases are vast. Get signatures on employment contracts, sales contracts, non-disclosure agreements, terms and conditions, invoices… You could even use the tool to obtain approvals on projects from your internal teams.
Once the contract is signed by all parties, a proper audit trail is created and all participants receive an email containing 3 attachments:
a HTML version of the signed contract
a PDF version of the signed contract, and
an audit certificate, which confirms the time and date of the contract's completion, the details of the parties involved, namely who created it and who signed it, along with their email addresses, device IPs, and signature timestamps.
For extra security, the email contains a link to verify whether the document is the original and has not been tampered with. And like External Share, the version of the contract that parties receive to sign is read-only, apart from the ability to add your signature. So there's no way for recipients to change any part of the contract.
Basically, the entire lifecycle of a contract can now take place directly inside Confluence, including the most important bit: the signing. No need to export or use a separate tool, and certainly no need to print, post, and file away, since Confluence already acts as a digital filing cabinet for all your documents.
"This app is the missing link in a company's ability to manage contracts in Confluence," says Old Street CEO, Chris Cooke. "Page templates, text variables, live collaborative editing, and version control already made it easy to create and collaborate on contracts, but it wasn't possible until now to complete that process. With this new tool, companies can make legally binding agreements, internally and externally, without having to leave Confluence. One more step towards achieving a single source of truth and making it easier for globally distributed teams to work together."
How to digitally sign contracts in Confluence with Contract Signatures
As with all Old Street apps, it's super-easy to use. Just follow these steps:
Download the app and the Signature macro will appear immediately in your list of Confluence macros. Use the / key or the + button at the top to find it.
Add the macro to your page and it'll appear, by default, as a signature box. You can change it to be a box to enter a date, initials, text, or a checkbox instead if you wish. Add more signature fields if there are more participants who need to sign.
Publish the page and click the Contract Signatures logo at the top. This will open a window where you can enter the names and email addresses of the signees. Click "Send".
Signees will receive an automated email with a link to a read-only version of the contract, which they can sign. Its status will be marked as "In progress" until all parties have signed.
When all parties have signed, the status will change to "Signed" and all parties will receive an email confirming this, with the 3 attachments described above and a link to verify the contract's authenticity.
And there you have it: a signed agreement, right there in your Confluence.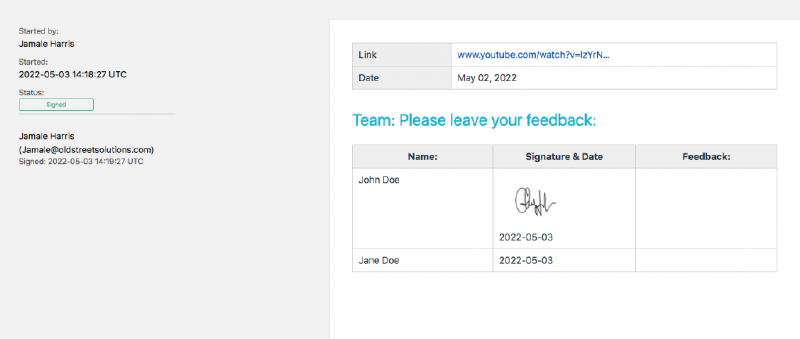 If you want to centralize not just your contracts but your entire contract management system, now you can.