Enhance collaboration with External Share's Roadmap Share feature
Collaboration is the key to success, and Roadmaps are the key to collaboration.
Hey there, are you struggling to collaborate with your clients and partners on Jira Roadmaps? Well, fret not, my friend! Let me introduce you to Roadmap Share, the newly introduced feature to External Share, the ultimate feature that enables Jira users to share their Roadmaps with external stakeholders without breaking a sweat.
Create and Customize
Roadmap Share operates differently from your standard share feature. Instead of just copying your existing roadmap, it creates a new one from scratch using JQL. A default JQL definition is already preset during creation, which mimics Jira's default roadmap configuration, displaying top-level issues as epics. If you check the "share child issues" option, Roadmap Share will display child issues under those top-level issues, providing a more comprehensive view of your project's progress.
One of the coolest things about Roadmap Share is that it empowers users to display different types of tasks on the roadmap as per their requirements. By designating issue types like "Bugs" as epics and showing their subtasks on the roadmap, you can customize your roadmap to showcase your project's progress in a way that suits you.
Streamlined Collaboration
With Roadmap Share, collaborating with external stakeholders is a breeze! It enhances transparency and allows clients and partners to view Jira Roadmaps, thereby gaining a better understanding of your project's progress.
Once the share is created, external users can subscribe to the issues displayed on the roadmap, ensuring that they are always up to date with the latest developments. Additionally, they can filter the view by assigned user, status, or designated epic, providing a more personalized experience.
Users can also view the roadmap by weeks, months, or quarters, depending on their preference. Additionally, they can center the view to the current date by clicking on the "Today" button, making it easy to see the current status of the project.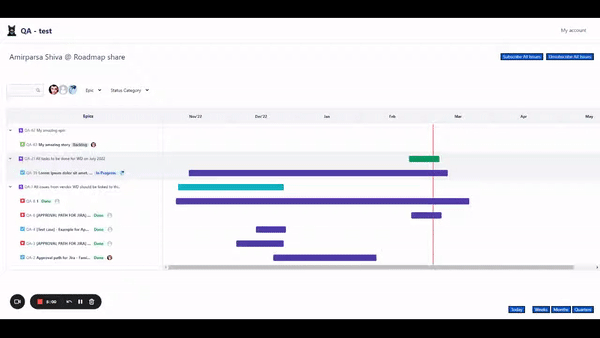 Conclusion
So, in conclusion, Roadmap Share is a fantastic feature that not only lets you share your Roadmaps but also enables you to customize them! It's easy to create, and the default JQL can be modified as per your requirements. With Roadmap Share, you can enhance collaboration and transparency with your clients and partners. So why wait? Try it out today and see the difference for yourself!
---
Make sure to follow us on LinkedIn to stay updated! And hey, we do hear you so if there's anything you think can be improved, just let us know!