Controlling Who Sees Your External Share for Confluence and Jira Links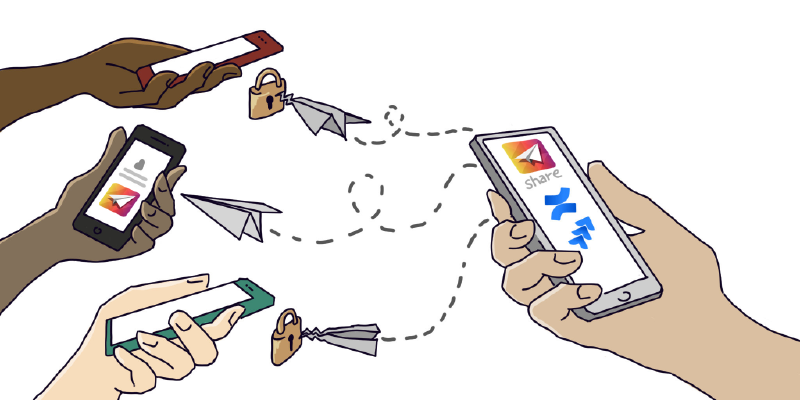 Companies have been asking us for a way of restricting which users can see theirExternal Share for Jira and Confluencelinks. Previously, you could create a secure link to your Confluence page or Jira issue and share it with a chosen person outside your instance. That link was always safe from a randomer on the internet finding it, thanks to its unguessable 16-character URL. It could be protected further by adding a password, making the page or issue inaccessible to anyone without it.
However, there was nothing to stop the person you share the link with from passing it on to someone else. Even if it's password-protected, that person could just share the password and the other user would be able to get access.
The Selected Users feature enables you to stop this from happening, and to control who sees your External Share links. If you have data on a Confluence page or Jira issue that you want to make sure goes no further than the external user/s you're sending it to, then you can easily restrict the visibility of the page to just those select few users.
Let's walk through how to do this.
How to share your Confluence pages and Jira issues ONLY with selected users
In Confluence:
Go to the "Selected Users" tab on the share form. Then click "Share only with the following users" as below.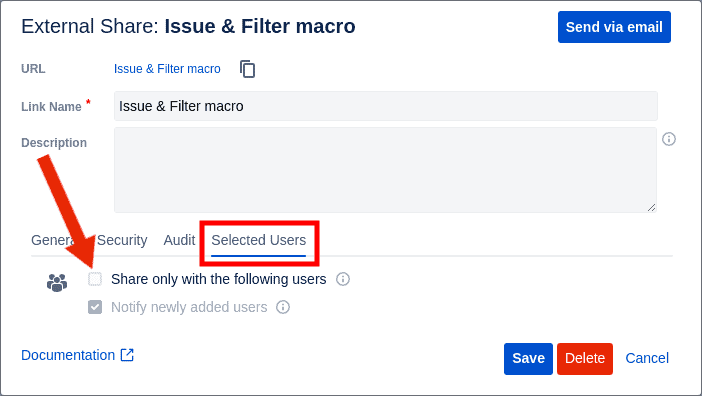 This will open a box where you can enter one or more email addresses. Enter the email addresses, separated by commas, of the people you want to share your Confluence page with. Then press enter on your keyboard as below.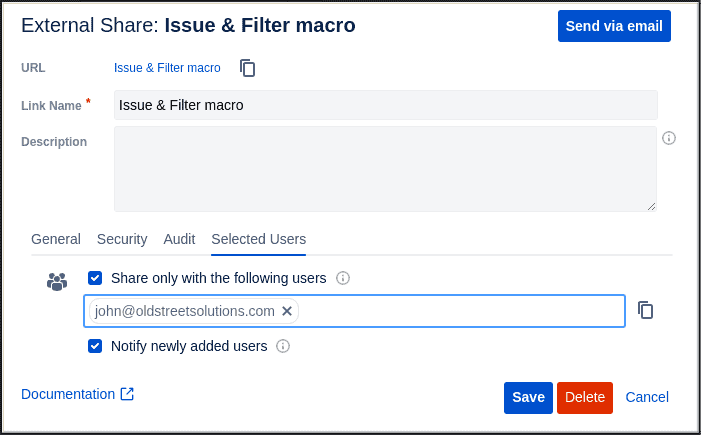 By default, clicking "Save" on the share form automatically sends selected external users an email notification that a Confluence page has been shared with them. Alternatively, you can click "Send via" so you can customize your email notification and send it to one or more users at a time of your choosing.
The users you select will need to have an External Share for Confluence account to be able to open and view the Confluence page you've shared with them. If they don't have one when you send them the link, they'll need to register.
Once they're logged in, they'll be able to see a list on their account dashboard of all the External Share links that have been shared with them. They'll also have access to our External Watch feature, which lets you subscribe for email notifications whenever someone makes a change to the page.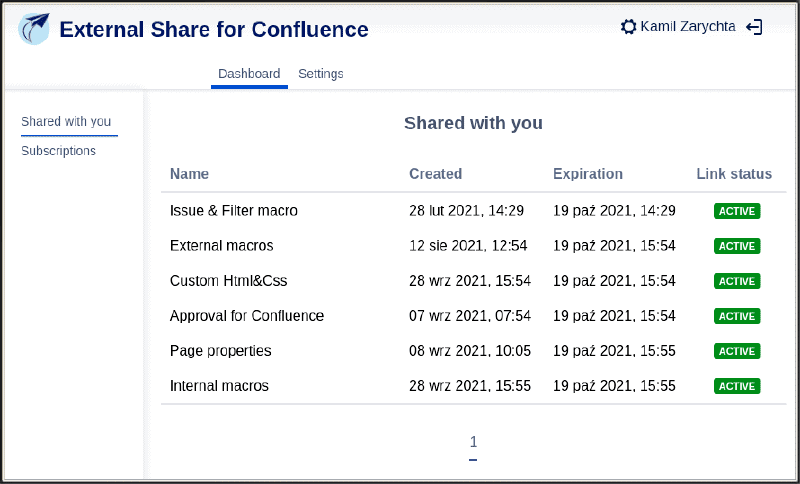 In Jira:
Jira users follow virtually the same steps as Confluence users. To use this feature in External Share for Jira, go to the " Selected Users" tab on the share form, click "Share only with the following users", and input email addresses of the people you wish to share with. Save the link and those users will be notified of the share. As with Confluence, the users will need to have External Share for Jira accounts to be able to access the Jira issue in question.
Control who your users share links with
The Selected Users feature allows your internal users to share information only with the external users they specify. But you can also control who those external users are allowed to be. The Selected Users feature lets you specify that you may only share with certain email addresses, or email addresses from certain domains. For example, you could allow shares only with emails that have yourcompany.com in it.
In Confluence, you can restrict share access at the space and global level.
To restrict the on space configuration level: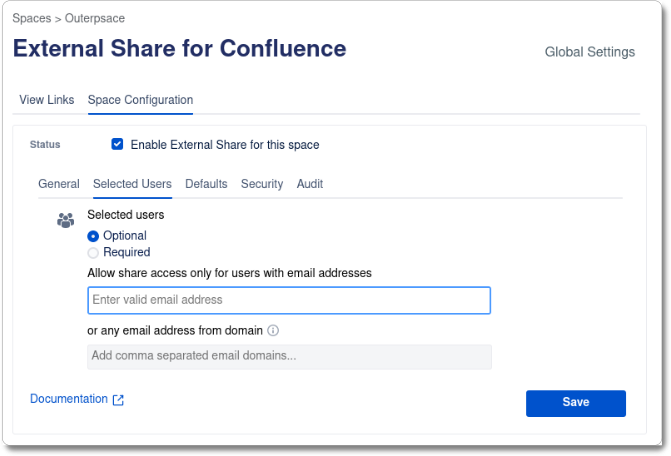 To restrict on the global configuration level:
Go to Global Settings
Go to Space Configuration
Edit default or create a new configuration
Open the "Selected Users" tab
Add email addresses/domains and save.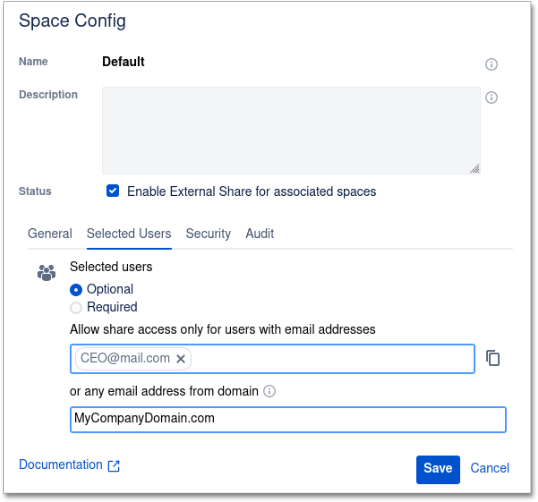 We've added this feature to the Confluence and Jira versions of the External Share app to enable companies to better control their data and who sees it.
You will be able to enjoy this feature in the Pro versions of External Share for Confluence and External Share for Jira.